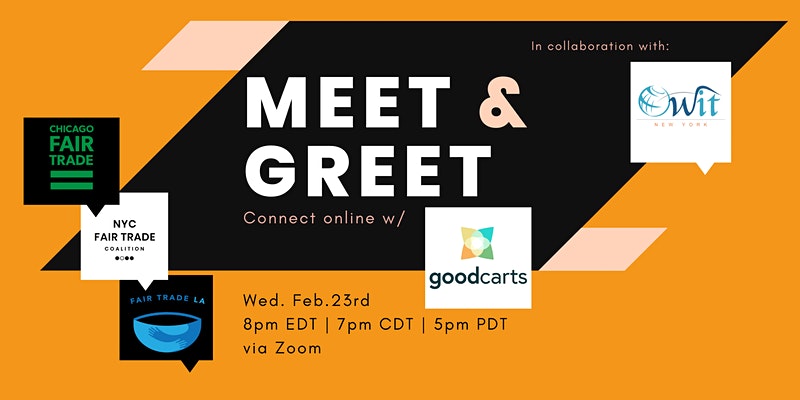 Meet & Greet with GoodCarts
Are you a do-good brand looking to grow your online sales? Want to increase your customers at no cost? Meet & Greet GoodCarts to learn more.
About this event
Come learn about GoodCarts, a free e-commerce app making a difference with post-checkout cross-promotion that works.
GoodCarts is an online platform to share your discount offer post-purchase with customers from our community of over 150 stores and brands, attracting new shop-for-good customers and boosting your sales for free. In return, you reward your customers with a modest invitation in your purchase confirmation page to view discounts from other vetted purpose-driven brands on GoodCarts.
Co-Hosts:
NYC Fair Trade Coalition: a grassroots organization that promotes fair trade businesses and retailers in New York City and educates consumers on the importance of fair trade. It partners with ethically-aligned businesses, retailers, NGOs, and citizens in New York City to host events and engage the public in dialogue. It offers its members advertising support through its social media channels, coordinates sales events, and fosters networking among ethical and fair trade businesses.
OWIT NY: United around the globe to foster international trade and the advancement of women in business.
Chicago Fair Trade: Chicago Fair Trade (CFT) cultivates a community dedicated to an economy that values the labor & dignity of all people. CFT is the largest grassroots fair trade coalition in the United States. CFT increases support for economic and environmental justice through consumer education, advocacy, and promotion of local fair trade businesses. CFT is proud to be a local and national leader in raising awareness about and building support for fair trade and its principles of environmental sustainability, ethical production methods, fair wages, and safe working conditions.
Fair Trade LA: Fair Trade LA will establish the widespread sales of Fair Trade products as a viable and ethical choice for improving the lives of global farmers and artisans while enriching the lives of local consumers with quality and sustainable products.