Description
by Speakers Frida Owinga, Hulya Kurt, Nithya Nagarajan, Tshengi Ndlovu and Guest Speaker Thamar Harrigan
Moderated by Camelia Mazard
Friday, August 14th at 3:00 p.m. Zimbabwe Time/9:00 a.m. Eastern Time
This webinar will about the impact of COVID19 and the New Normal that has been ushered in by the pandemic.
 Trade has been affected badly and the informal sector comprising of mostly women has been dealt most severely.
The discussion will revolve around how women  businesses will survive in the new normal, the set of skills required for businesses to survive.
How should policy makers design trade policies in the new normal to avoid a repeat what has happened?
The resurgence of the corona virus is a looming reality-  how  do trade policies mitigate the resurgence to achieve resilient economies?
Camelia Mazard  is a partner focusing in International Trade Regulation, Antitrust and Hospitality Law at the law firm of Doyle, Barlow & Mazard PLLC.  Ms. Mazard practices in all areas of international trade and customs law.  In fact, she participated in many of the major trade disputes over the past twenty years.  Ms. Mazard's clients include U.S. and foreign corporations in such industries as natural casings, refractories, steel and motion pictures.  In addition, Ms. Mazard also represents domestic and international clients with respect to import and export transactions and NAFTA issues.  Ms. Mazard also has experience representing private parties and sovereign governments before U.S. courts and international arbitral tribunals and also counsels a range of clients, including multi-national corporations and trade associations, regarding compliance with federal antitrust rules and advises both U.S. and foreign companies in the federal merger review process.  She also represents clients on issues related to mergers and premerger notifications both inside and outside the United States and in front of federal and state antitrust regulatory agencies.  During school, Ms. Mazard served as a Legal Intern for the State Department at the United States Mission to the United Nations and for Duracell, Inc.  She is fluent in French and proficient in Spanish.  Ms. Mazard is admitted to practice in the District of Columbia, the U.S. Court of International Trade, the U.S. Court of Appeals for the Federal Circuit and the U.S. District Court for the District of Columbia.  She is the President of the Organization of Women in International Trade, on the Board of Directors of the Women in International Trade Trust, and a member of the D.C. Commission for Women.
Frida A. Owinga is the founder of PassionProfit, a people and enterprise development organization. She is an Impact Coach and supports her clients to generate reliable recurring revenue by optimizing their influence and increasing their impact so that they can enjoy life and work.
She has been working with individuals and organizations  for over 25 years across sectors and geographies. Frida has designed her studies to deliver the services and results she desires. She studied organizational leadership and management at the Regent University in Virginia; small business management by Small Business Authority in Atlanta, Georgia; Launch and Grow Entrepreneurship  at Babson College, in Boston and is an alumnus of 10k Women in Business by Goldman Sachs, USIU-Africa. 
She is a Profit First Professional and a Certified Business Advisor specializing in helping business leaders pinpoint what they need to fix next to improve business performance, productivity and profit.
Her programs are tailored to support audiences to package their passion and proficiency to produce purposeful profit.
She serves on the executive board of Organization of Women in International Trade(OWIT), as the Executive Vice President; non executive director at Home Africa Limited, and is the Chairperson of SME Founders Association an organization that fosters a sustainable environment for SMEs to grow and succeed.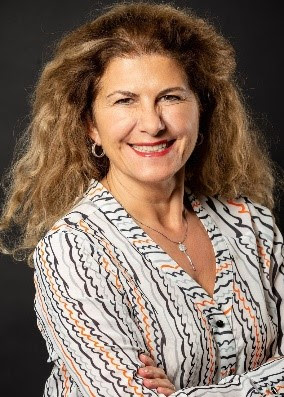 Hulya Kurt – She spent 30 years in the corporate world, where she held many different roles, ranging from Business Admin Manager to Global Customer Experience Lead, Business Strategy Manager and Process Design Lead.
She was part of the Diversity and Inclusion global steering committees, led the local Business Resource Groups and now she is the President of OWIT (Organization of Women in International Trade) Lake Geneva, as well as VP Chapter Support, for OWIT International.
Believing strongly in the power of coaching, she is  President of Noble Manhattan Coaching, which is an international organization, uniting and providing training to coaches to be certified and sharing experiences, practising together.
With a wide experience in managing large, remote and on-site teams, creating strategies, and assessing solutions, she is passionate about helping others to succeed and holding multiple workshops around Career development and Innovation methodologies globally, combined with individual or collaborative coaching.
Nithya Nagarajan – Nithya's experience working in federal government agencies provides critical perspective as she advises clients on U.S. trade and trade remedies. Her previous roles at the Department of Commerce, the Department of Justice and the U.S. Court of International Trade give Nithya an insider's perspective as she counsels clients on administrative and regulatory acts before Commerce, the International Trade Commission and U.S. Customs and Border Protection (CBP). Nithya also defends appeals in the U.S. Court of International Trade, the U.S. Court of Appeals for the Federal Circuit, NAFTA panels and the World Trade Organization. Nithya's focus is trade-remedy strategy and antidumping and countervailing duty proceedings. Nithya has advised foreign manufacturers in India, China, Thailand, Malaysia, Korea and Vietnam in handling trade and supply chain issues associated with exports to the United States. As a result of this experience, Nithya has a wide ranging understanding of the business regulatory, financial recordkeeping, and other trade and supply chain issues unique to each of these countries. She has deep experience with all levels of trade remedy proceedings, having led and participated in numerous such proceedings conducted by the U.S. Department of Commerce, the Ministry of Commerce in the People's Republic of China, the DGFT in India and the European Commission. She has conducted trade consultations and negotiations with foreign governments including India, Japan, the Netherlands, Russia and Ukraine, and negotiated several bilateral trade agreements (suspension agreement or undertakings) on behalf of the Department of Commerce in the settlement of antidumping duty investigations. Nithya advises clients to choose preventive medicine instead of a bandage by calling her to avert problems when they start new investments or become mandatory respondents in trade remedy proceedings. As a licensed U.S. Customs broker, she handles classification and entry analysis, prior disclosures and protests.
Sitshengisiwe Ndlovu affectionately  also known  as  Tshengi  is a champion of the trade and gender  agenda. She is self -driven and passionate about   women economic empowerment. She is also the founder of Her Economy and Trade  now licenced under  Organisation of Women in International Trade Zimbabwe Chapter (OWIT). She is the president of OWIT ZIMBABWE Chapter..
Tshengi has vast experience in trade facilitation having worked   extensively for the Department of Customs and Excise in Zimbabwe  for more than twenty years. While in  Customs  she worked at various border posts  including the main Airports of Zimbabwe facilitating trade within the legal frame work. This gave her a rare opportunity to interface with a lot of Women in Cross Border Trade  and build in her an unlikely activist who  is now an advocate of the trade and gender agenda. Her  thorough  knowledge on  Customs and  Border Management  has enabled her to  have an analytic mind on trade facilitation visa vis  women in regional and international trade.
After Customs, Tshengi  joined the private sector  primarily the logistic industry as the Operations Director.  She was appointed to be the liason person between the Logistic Industry and  Customs Department which had become quasi government   entity now known as  Zimbabwe Revenue Authority. She continued to excel in that capacity joining the Board of Professional Clearing and Forwarding.
Her business acumen has enabled her to sit in various boards  of different successful entities. As an eloquent speaker, Tshengi has been able to negotiate, initiate dialogue on difficult topics endearing herself to different communities obtaining within society.
She is the authentic voice of the marginalized and was part of the first UN Working Group on Discrimination against Women and Girls held in Addis Ababa in November 2019 after participating in Global Governance Programme on Services in Trade and SDGs held at Robert Schuman Centre of Advanced Studies in Florence Italy.
Thamar Harrigan is an international trade attorney, legislative policy expert, and economic development advisor.  She holds both a Juris Doctor and a Masters of Law in International Business that she obtained in China from a joint program between the National University of Singapore and East China University of Political Science and Law.  She is Principal Advisor at Harrigan Global, an International Trade firm that represents global clients with a focus on assisting small- and medium-sized businesses successfully enter new markets and comply with the multitude of US federal laws and regulations.
Currently, Thamar is the Co-Founder and Legal Counsel for the Haitian Ladies Network, the largest professional and social network platform connecting more than 50,000 women of Haitian descent from across the U.S., Haiti, and around the world. She is the Vice President of Government Relations and Sponsorship for the Organization of Women in International Trade (OWIT).  She recently served as the Secretary General for 2020 G7 Youth Summit for Young Professionals in Foreign Policy (YPFP) and still serves the organization's Director of Youth Summits. Thamar is an occasional Guest Lecturer on the "Caribbean Foreign Policy & Trade Relations at the Foreign Service Institute.
She previously served as an Obama presidential appointee as the Senior Advisor for Intergovernmental Relations at the U.S. Department of HUD.  Prior to this, she served as Senior Advisor to the Ambassador of the Republic of Haiti at the Embassy in Washington, DC.
Event password:  fi6=0k.M