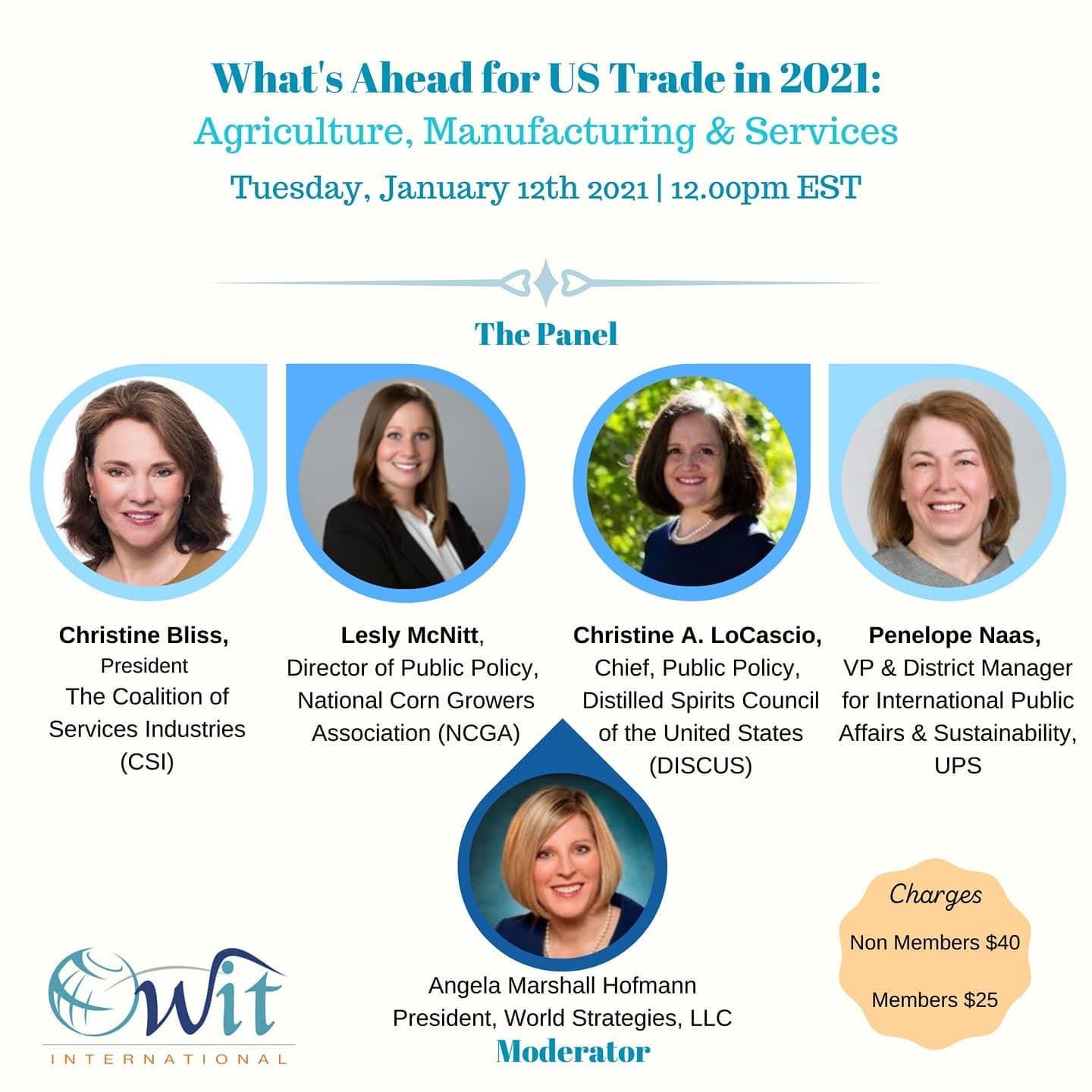 What's ahead for US Trade in 2021: Agriculture, Manufacturing & Trade
What's on the Horizon for 20201?  Soon we will welcome a new year as well as Administration and Congress.  Please join us for a webinar focused on the future of US Trade with leading women experts representing Agriculture, Manufacturing, Services and Logistics who will share their views on the road ahead for US policy and what it means for women-owned businesses that depend on reliable supply chains and key customers around the world.
Our Panel:
Christine Bliss, President of the Coalition of Services Industries (CSI)
Lesly McNitt, Director of Public Policy, National Corn Growers Association (NCGA)
Christine A. LoCascio, Chief, Public Policy, Distilled Spirits Council of the United States (DISCUS)
Penelope Naas, Vice President and District Manager for International Public Affairs and Sustainability, UPS
Angela Hofmann to moderate
Lesly Weber McNitt is Director of Public Policy for the National Corn Growers Association,where she manages trade and biotechnology policy. Prior to joining NCGA, she served as Chief of Staff of Farm and Foreign Agricultural Services,  at the U.S.Department of Agriculture. She previously served as Chief of Staff of the Farm Service Agency(FSA). McNitt joined USDA from Farm Journal Foundation, where she was Director of Government Relations and Program Development. Prior to joining Farm Journal Foundation, Lesly was a senior legislative associate
with Oldaker, Belair & Wittie, LLP.  Lesly graduated cum laude from The George Washington University's Elliott School ofInternational Affairs with a B.A. in International Affairs and a concentration in International Politics. She also earned her Master of Professional Studies in Legislative Affairs at The GeorgeWashington University's Graduate School of Political Management, graduating summa cum
laude. She lives in Washington, D.C. where she is active in her local community.
Christine A. LoCascio joined the Distilled Spirits Council of the United States (DISCUS), a national trade association representing U.S. producers, marketers, exporters and importers of distilled spirits products, in 2001. Ms. LoCascio is responsible for coordinating and implementing the Council's federal,state and international trade public policy objectives. In this role, Ms. LoCascio advocates in support of DISCUS priorities, such as securing a permanent extension of Craft Beverage Modernization and Tax Reform Act of 2017, an end to the imposition of retaliatory tariffs on U.S. spirits exports, and improved market access for distilled spirits at the state level. In addition, Ms. LoCascio oversees the Distilled Spirits Council's participation in the U.S. Department of Agriculture's Market Access Program (MAP) to ensure compliance with relevant USDA regulations.
She has led successful lobbying efforts. Ms. LoCascio serves as Chair of the U.S. Department of Commerce and USTR's Industry Trade Advisory Committee for Consumer Goods (ITAC 4) which provides technical advice on U.S. trade issues to the Secretary of Commerce and the Office of the United States Trade Representative (USTR). Ms. LoCascio received her B.A. in History and Italian Language and Literature from Washington  University in St. Louis and her M.A. in International Relations from the Johns Hopkins School of Advanced International Studies (SAIS).
Christine Bliss is President of the Coalition of Services Industries (CSI). Prior to joining CSI, she served as the Assistant U.S. Trade Representative (USTR) for Services, Investment, Telecommunication, and E-Commerce. She also served as the lead U.S. negotiator in the World Trade Organization (WTO) Doha Services Negotiations and in the WTO Bilateral Services Accession Negotiations for Russia and Saudi Arabia.
Ms. Bliss oversaw the services and investment negotiations and was co-lead negotiator of the financial services negotiations in the Trans-Pacific Partnership negotiations and was a lead negotiator for services and financial services in previous U.S. Free Trade Agreement negotiations. She also led the development of USTR's digital services and investment trade agenda, which included innovative new disciplines on cross-border data flows and local server requirements. Ms. Bliss has also served as Chief Counsel and Acting Assistant USTR for Monitoring and Enforcement, responsible for managing U.S. litigating in the WTO, NAFTA, and other multilateral and bilateral trade agreements.  Ms. Bliss holds a J.D. from the University of California at Davis and a LL.M. from George Washington University.
Penelope Naas  is UPS President for International Public Affairs and Sustainability, based in Washington DC and previously in Brussels, Belgium. She began her UPS career in May 2012, managing the Public Affairs team for the Europe, Middle East and Africa Region; enhanced governmental understanding of UPS and the issues impacting the logistics industry.  From 2006-12 she  worked for Citigroup in the Global Government Affairs team.  She oversaw the various legislative and regulatory issues that arose after the 2008 financial crisis. Penelope started her career at the U.S. Department of Commerce (DOC), working for 13 years in various roles, including leading the Office of Europe and creating strategies to help US companies facing market access challenges in Europe, and working in both the Clinton and Bush White Houses on taskforces to pass trade deals. She is the Co-Chair of the  World Economic Forum's Global Future Council on Trade and Investment. She has a BA in Economics and MA in International Trade and Public Policy, University of Michigan.