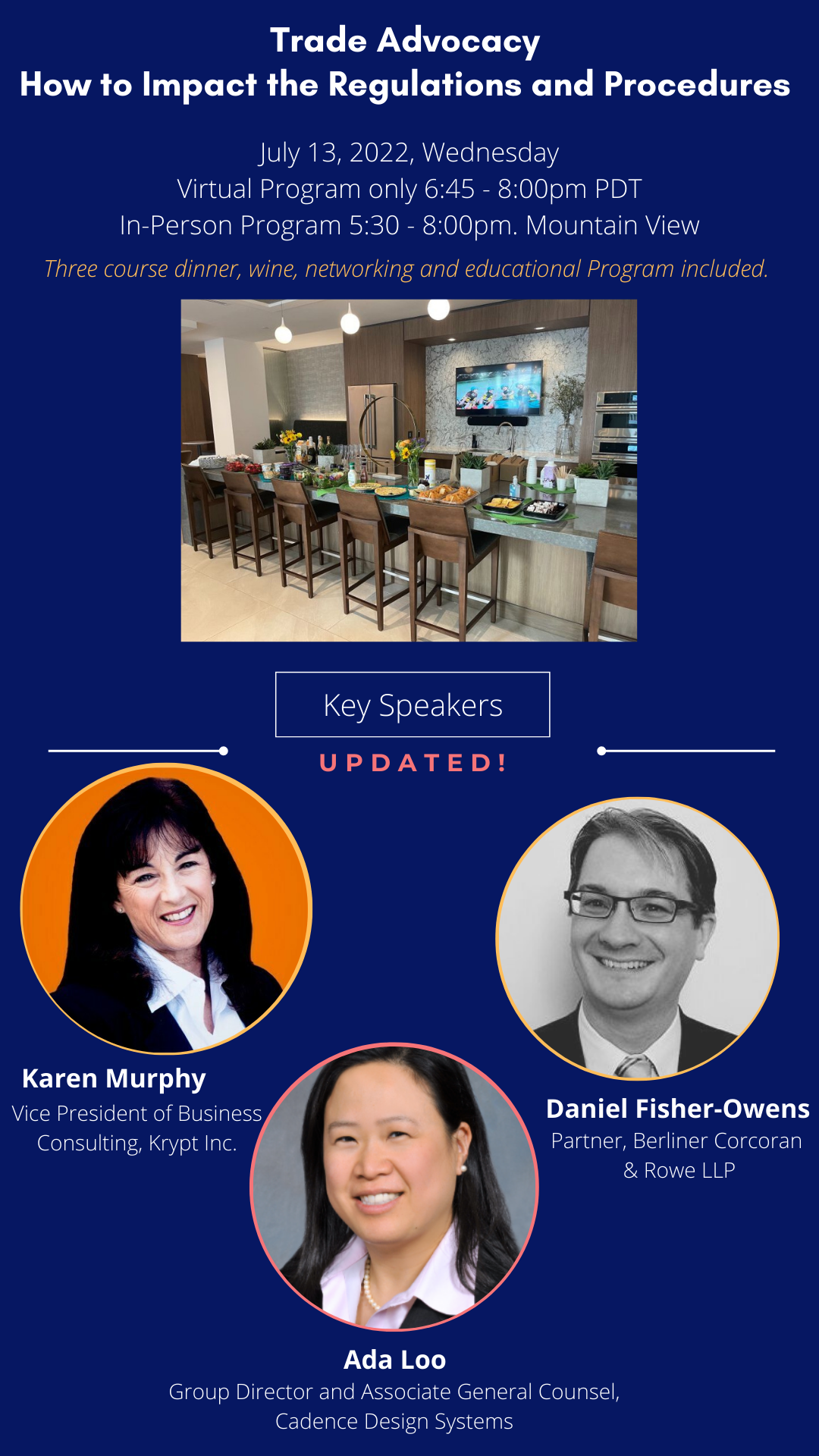 Trade Advocacy – How to Impact the Regulations and Processes
WIT-NC Presents a hybrid event:
In-person and Zoom options available
New!
Additional Speakers Ada Loo of Cadence Design Systems
and Dan Fisher-Owens of Berliner Corcoran & Rowe!
Registration Fees Reduced!
-In-Person Registration page: https://www.wit-nc.com/content.aspx?page_id=4002&club_id=955766&item_id=1745284
-Virtual Registration page: https://www.wit-nc.com/content.aspx?page_id=4002&club_id=955766&item_id=1745284

Date: July 13, 2022

In-person: Networking, Appetizers and Wine at 5:30pm
Seated Dinner, Wine and Dessert at 6:15pm
Program 6:45pm – 8:00pm
Virtual Program only 6:45 – 8:00pm

Drowning in a wave of new rules and regulations? Feel like you're constantly reacting rather than planning? Great news—it's possible to influence trade policy and regulations, and WIT-NC is here to show you how to do it effectively, no matter how big or small your company is. Every trade compliance professional must interface with government regulators. Our speakers will provide helpful tips and tricks to make that process as effective as possible for your business.
Join us in person or via Zoom, and learn:

What trade advocacy is and how it differs from lobbying;
How you can make your views known to policymakers, whether directly or by working through counsel or industry organizations;
How to collaborate effectively with your company's government affairs team; and
Why it's a good idea to advocate, even (or maybe especially) if you're a smaller company.
Speaker:

Karen Murphy, Vice President of Business Consulting, Krypt Inc.
Karen Murphy is a trade professional with extensive experience in global trade regulations, logistics, and supply chain. Starting in the trenches as a transportation and then an export manager, Karen became Managing Director for trade at Applied Materials and VP of Global Trade at Flex before joining Krypt, a provider of trade compliance and supply chain solutions for the SAP platform. She is a licensed US Customs broker and serves on the Bureau of Industry and Security's Regulations and Procedures Technical Advisory Committee (RPTAC).
Daniel Fisher-Owens – Partner, Berliner Corcoran & Rowe LLP
Focusing on U.S. export controls, economic sanctions, and anti-boycott laws, Dan enjoys digging into the technical aspects of export controls, translating between "geek speak" and "Washingtonese". His firm helps companies develop and implement compliance programs and navigate export control and sanctions licensing enforcement matters. More information is available at www.bcr-dc.com and LinkedIn.

Ada Loo – Group Director and Associate General Counsel, Cadence Design Systems

Ada Loo has close to 20 years of legal experience in international trade law, covering all aspects of trade in both the public and private sectors.  Ada started out her legal career as a Customs Attorney at the U.S. Customs Service, now known as the U.S. Customs and Border Protection due to the formation of the U.S. Department of Homeland Security in 2002.  Ada later moved on to the U.S. Department of Commerce's Office of the Chief Counsel for Trade Enforcement and Compliance (formerly, the Office of the Chief Counsel for the Import Administration) litigating antidumping and countervailing duty cases before the Court of International Trade and the U.S. Court of Appeals for the Federal Circuit.
After dipping her toes in litigation, Ada learned that it wasn't for her and headed to a large international law firm in Washington, D.C. where she developed her trade practice to focus primarily on export controls and economic sanctions.  While enjoying her time at the law firm, Ada was contacted about a limited opportunity to go in-house at America's largest exporter, The Boeing Company (Boeing).  Wanting to take advantage of this new opportunity, Ada left the firm for Boeing and was there for close to ten years until she decided it was time to take on a new challenge, the semiconductor industry.
Ada is now at Cadence Design Systems as their Group Director and Associate General Counsel for Government and Trade Compliance.  Ada received her undergraduate degree at Emory University and her law degree at American University's Washington College of Law.