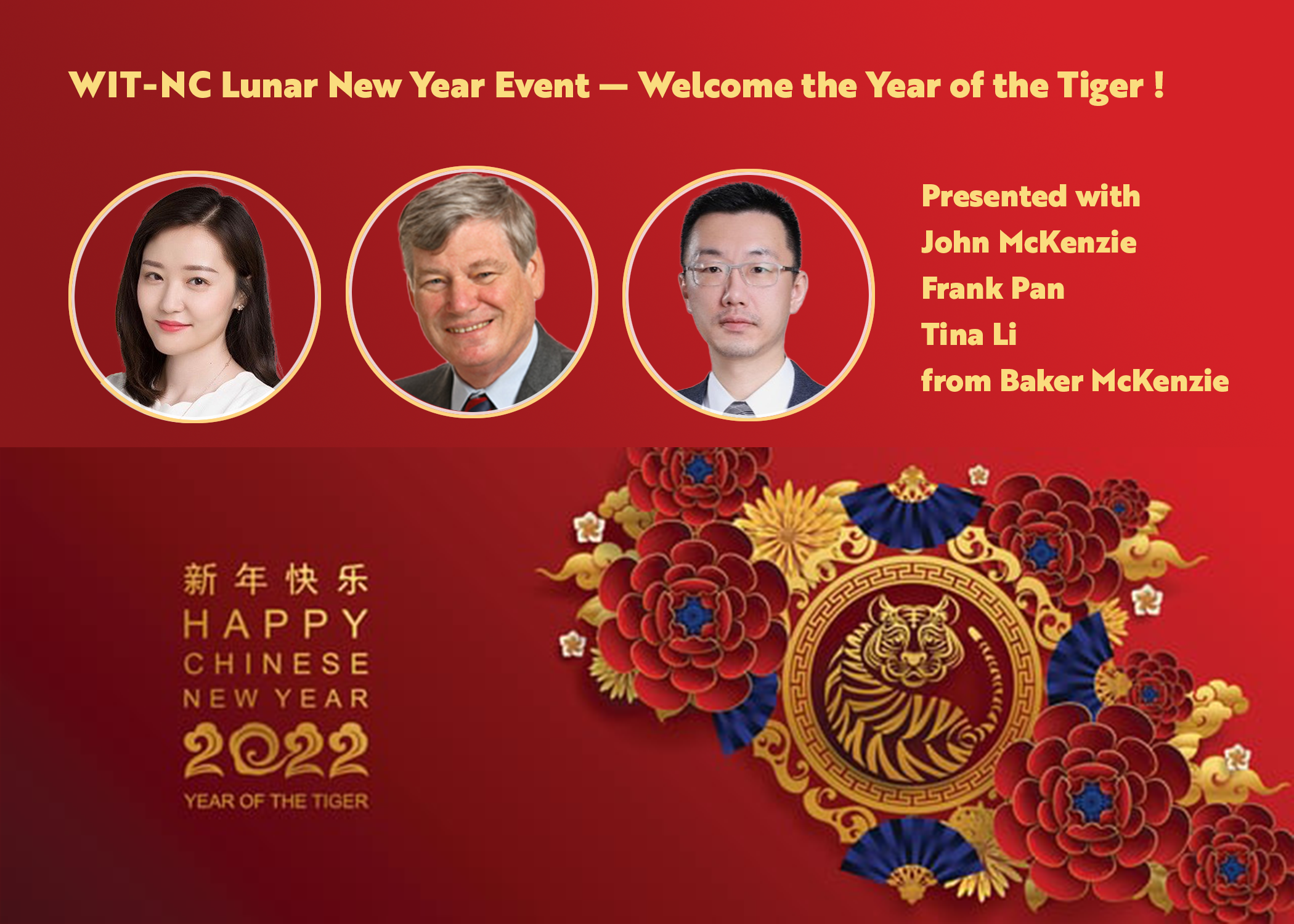 Lunar New Year Celebration—Welcome the Year of the Tiger!
The law firm of Baker McKenzie returns to our annual event to discuss ongoing and upcoming trade developments with China. We are happy to welcome this year's speakers!
Speakers:
John McKenzie, Partner, San Francisco
Mr. McKenzie's practice is focused on cross-border transactions and international trade regulation, including:
– Export Controls, Economic Sanctions Regulation, Customs and Import Regulation
– Integrated Corporate Compliance and Anti-Corruption Compliance: Advisory and Investigations
– International commercial and technology development and transfer transactions
Mr. McKenzie was articles editor at the Harvard Law Review from 1975-1976. Between college and law school Mr. McKenzie served in the Peace Corps in the northwestern mountains of Guatemala. He joined Baker & McKenzie in 1976. Since that time, he has worked in Baker & McKenzie offices in Caracas, Venezuela and Taipei, Taiwan, in addition to San Francisco.
For the past 40 years, Mr. McKenzie has arranged and chaired the annual Baker McKenzie Import/Export Conference, the leading international trade regulation and compliance conference in the West Coast of the United States.
Frank Pan, Senior Counsel, Shanghai
Frank has more than 15 year of experience working in a broad range of trade actions, including advising clients on trade law compliance, export control, trade remedy, and other PRC regulatory and customs issues related to supply chain planning and managing disputes with PRC regulators.
Frank was previously a partner with a PRC law firm that is a member of the PwC global network of firms. Prior to that, he was Of Counsel to Baker & McKenzie, where he was one of the leaders of the firm's China Trade and Supply Chain practice for more than six years. He also worked for more than seven years at a leading Chinese boutique trade law firm, where he acted for more than 50 Chinese and multinational corporations in responding to trade remedy actions initiated by the US, EU, PRC, and other jurisdictions.
Frank holds LL.M. degrees from Georgetown University Law Center and Fudan University, and a B.Sc. from Shanghai International Studies University. He is qualified to practice in both the US and the PRC.
Tina Li, Associate, Shanghai
Tina's practice involves a wide range of legal services in international trade and commerce, including advising on tax and customs issue and other PRC regulations relating to supply chain optimization, export controls, trade compliance, and customs dispute resolution.
Tina has an LL.M. from Northwestern University's Pritzker School of Law, a J.D. with concentrations in Business Law and International Law from the University of Minnesota School of Law, and an LL.B. from Fudan University School of Law. She is qualified to practice in both the US and the PRC.