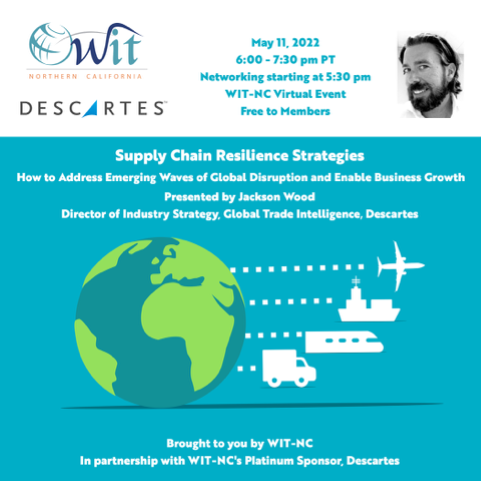 Join WIT-NC May Event – Supply Chain Resilience Strategies
WIT-NC presents a virtual event in May!
Supply Chain Resilience Strategies:
How to Address Emerging Waves of Global Disruption and Enable Business Growth
Register at: https://www.wit-nc.com/content.aspx?page_id=4002&club_id=955766&item_id=1701673

May 11, 2022
Program 6:00 – 7:30 pm PT
Networking available before at 5:30 pm
WIT-NC's Platinum Sponsor: Descartes
Speakers:



Jackson Wood, Director of Industry Strategy, Global Trade Intelligence, Descartes.
Jackson joined Descartes in 2019, bringing more than 15 years of international trade and compliance industry expertise to his role. In addition to his compliance experience, Jackson leverages his expertise in strategic planning, change management and corporate development to help companies gain maximum value from Descartes solutions.