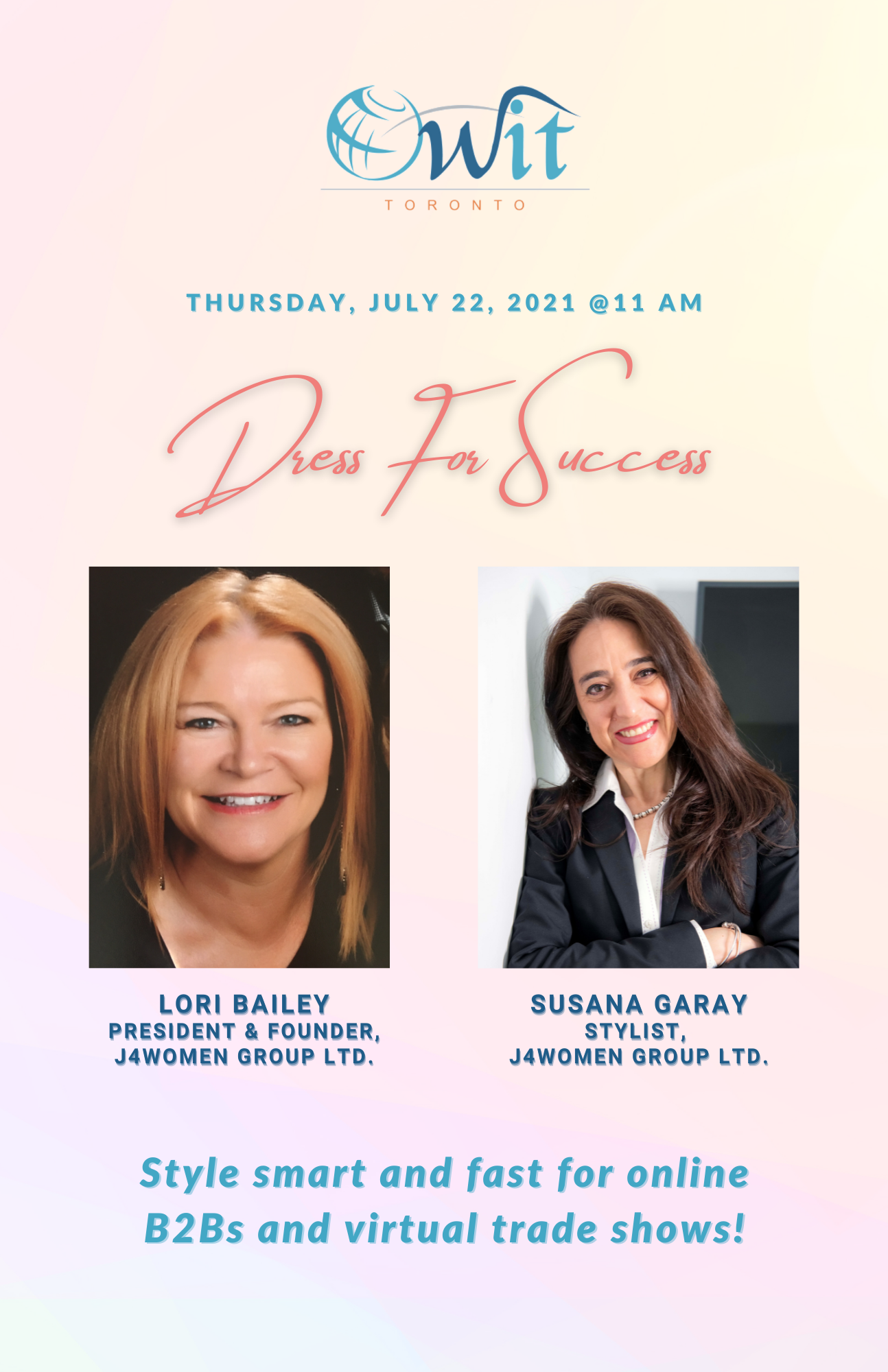 Dress for Success
Last session of Personal Branding is coming up!
The first two sessions were all about the fundamentals and tips on how to build our own personal brand as an entrepreneur. Now it is time to work on our representation during especially online B2B meetings, virtual trade shows. We will have two guest speakers: President and Founder of Just4Women Group Ltd. Lori Bailey, and Susana Garay, Stylist.
Special announcement for OWIT members!
Raffle prize draw of $100 to the lucky winner from our speakers – Lori Bailey and Susana Garay.
Please click here to register for the raffle draw.
Susana Garay
Susana has more than 15 years of experience in the fashion industry, she is a self-motivated and experienced store manager that has a passion for fashion and customer service. Susana has been styling women for more than 10 years helping them to improve their personal image, recommending them the right outfit that best suits their body shapes Being an expert in women body shapes she is able to advise them and teach them how to maximize their wardrobe, buying less by choosing well. Her passion for customer service has allowed her to build strong bond relationships through the years. Susana has been able to style divergent customers, lead teams, and manage different very well-known retailer brands such as Laura, Gap, Jones New York, Tip Top Tailors, Sears, and Brooks Brothers.
Lori Bailey
Lori Bailey is a passionate retail industry leader with broad sales, marketing, and operations expertise. She has spearheaded unique and innovative strategies proven to expand retailers target market audience. She has a talent for developing customer-obsessed teams that are highly skilled in the art of customer engagement and clientele development. Her company, Just4Women Group's mission is to identify, attract and teach women how to shop with direction by providing a platform that makes fashion options simple. Previously, she served as Chief Customer Experience Officer and Senior Vice President of Retail Operations for Sears Canada, overseeing 140 retail stores and more than 500 dealer and agent locations. With 20 years of executive experience, Lori is intimate with the Canadian retail landscape. Lori has held a range of executive positions at well-known retail fashion chains throughout her career including Nine West, Gap Canada, Jones New York, and Laura Canada and she has an unprecedented track record for growing revenue and profit at every company she's worked for. Lori has also been the recipient of multiple sales achievement awards from leading Canadian and international retailers.
Don't forget to register for the event today.