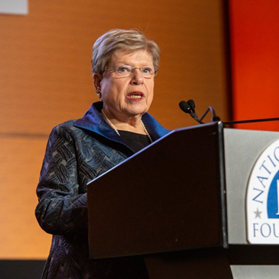 CRAFTING AN EFFECTIVE STRATEGIC COMMUNICATIONS PLAN
Crafting an Effective Strategic Communications Plan
Moderated by Andrea Durkin, WIIT President
Kathy Gest will provide training in how public opinions are formed and influenced, and she will discuss key elements in your strategic communications plan: situation analysis, goals, audience identification, strategies and tactics; organization and staffing, internal and external communications, adjusting to changing circumstances.
Kathy Gest is a communications trainer, public affairs strategist, editor and writer with a particular interest in international assignments. She specializes in democracy development, assisting parliaments, political parties, civic organizations and election observation groups seeking to improve their advocacy and communications skills. She also is a board member and past chairman of the National Press Foundation.
She has served as public affairs director for an international nonprofit specializing in democracy building; executive vice president of an international public affairs firm advising corporations, organizations and foreign governments; press secretary for a U.S. Senator; managing editor of a major political journal; and a trainer, advisor and election observer in 30 countries.