1-2-1 Networking with GroYourBiz
Back By Popular Demand! Join Us for our 1-2-1 Networking Sessions, aka "CHAT ROULETTE" and Meet Someone NEW Every 5 Minutes!
Please join us on August 18th for a stimulating and spirited discussion with other like-minded people.  Our Chat Roulette is designed to explore respective businesses without any 'selling' pressure. It is an opportunity to learn more about fellow delegates and WBOs from other regions/countries.  Share your skills, expertise, knowledge and inspiration.  Discover a chance to collaborate.
To accommodate our Global Connections, we have scheduled morning and afternoon sessions! These are FREE, and anyone is welcome to join!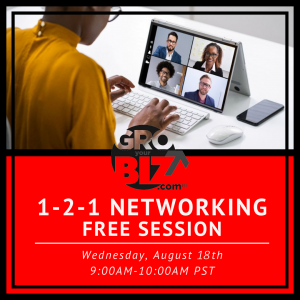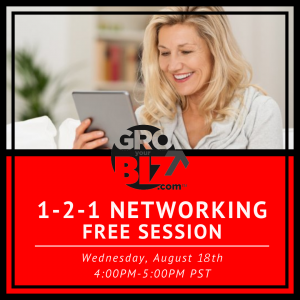 Virtual Doors will open 10 minutes before start-time.