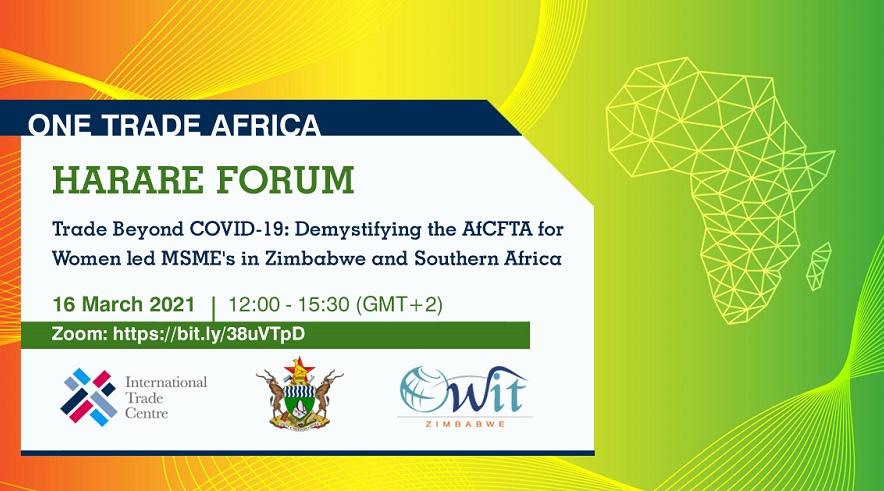 Harare Forum : Trade Beyond COVID-19 – Demystifying the AfCFTA for Southern African/Zimbabwe Women Led MSMEs
Harare Forum demystifies the African Continental Free Trade Area for women businesses in Zimbabwe and Southern Africa
The International Trade Centre (ITC) in collaboration with the Organization of Women in International Trade (OWIT) in Zimbabwe will host a trade forum on 16 March to explore how the African Continental Free Trade Area (AfCFTA) can help empower women entrepreneurs in Southern Africa.
The event is part of ITC's "One Trade Africa" programme that supports women and youth entrepreneurs in taking advantage of the AfCFTA.  The Common Market for Eastern and Southern Africa (COMESA) Business Council and the country's trade development and promotion agency – ZimTrade, will join the event.
The forum will provide an opportunity for women entrepreneurs in Southern Africa to develop new trade roadmaps for their businesses.  Due to COVID-19, 30 delegates will gather in Harare, Pretoria while participants from the sub-region, key speakers and panelists will join virtually.
The event will also include mini-workshops on key trade topics. They will look at exporting within the AfCFTA – a new ITC training programme – using e-commerce to expand business opportunities and increase intra-Africa transactions as well as explore ITC tool to identify gaps in policy and monitor progress through SheTrades Outlook.
Click HERE for the agenda.