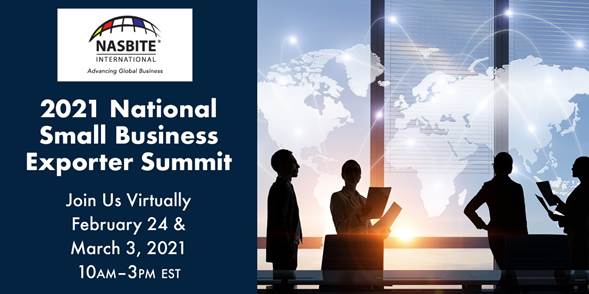 5th Annual National Small Business Exporter Summit
10 a.m. – 3 p.m. EST
February 24 & March 3, 2021
Virtual Delivery
The must-attend 2021 National Small Business Exporter Summit starts Feb. 24th…..
The first day of the virtual 2021 National Small Business Exporter Summit is on Feb. 24. Register today to ensure that you don't miss out on the great ideas and best practices shared by the top small- and medium-sized exporters from across the United States, Canada and Mexico. Plus, you'll hear from keynote speakers discussing emerging opportunities and the new realities exporters face due to COVID-19.
Once you've registered, you will have access to sessions on both Feb. 24 and March 3!
The conference will run from 10 a.m. to 3 p.m. EST on both days with sponsor networking starting at 2:15 p.m.
Feb. 24 sessions topics and presenters will include:
·     "Finding Buyers and Getting Paid" presented by Howard Melamed, CellAntenna International (FL)
·     "Successfully Launching new Products into New Markets" presented by James Ryan, Sentry Protection Products (OH)
·     "David and Goliath: The Big and the Small of Global Partnerships" presented by Dennis Nash, Control Station, Inc. (CT)
·     "Navigating International Regulatory Compliance Obstacles" presented by Stefan Gefter, Aseptico (WA)
·     "Using Grant Funding to Aid in the Development of a Strategic Export Approach" presented by John Sammut, Firstronic, LLC (MI)
The keynote, "At a Glimpse – Emerging Opportunities in Eurasia," will be presented by Laurie Kelleher, commercial officer for the U.S. Commercial Service.
A full day of outstanding exporter presentations and the keynote "Beyond COVID – Making Sense of the New Realities" presented by David George, analyst and services director for Global Data in London, round out the summit on March 3.